Client:
The Great Crystal
The Great Crystal is an event planning company specialized in wedding planning, business and personal events organization.
IT Consultis developed a Drupal one-page-website and shaped the visual identity for this elegant website.
Launch it
IN BRIEF
Drupal development

Art direction

Responsive design

Front-end development

Background video integration

Alipay payment integration
DEVELOPMENT
We chose Drupal 7 for this project to offer the client a great flexibility in content management.
Not only is this one-page-website a showroom, it is also an e-Commerce with payments made possible through Alipay. Since many products such as wedding invitations and wedding cake are custom made, the user can enter all specifications into the details when placing the order. All information are then listed in the back office for the brand to manage orders and engage into one-to-one conversations with the clients.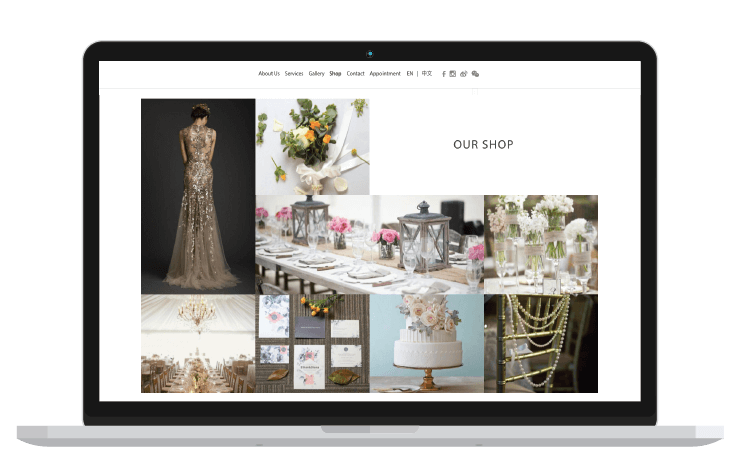 GRAPHIC
The company's name The Great Crystal comes from the novel The Great Gatsby written by American author F. Scott Fitzgerald.
The brand wanted a visual identity that would emulate the privilege moments The Great Crystal aims to offer their clients.
All designs contribute to the elegant and romantic atmosphere; from a flower which colors blend gracefully when sliding tabs, to an appointment booking form wrapped in a delicate envelop.
Of course, the website is fully responsive and can be seen at its best on desktop, mobile phones and tablets.
In terms of User Experience, we chose a tumblr approach to display the services, gallery and products to seduce the feminine audience.

RESULT
It was a great project for IT Consultis, to deliver such a beautiful design that will enable the brand to create memorable moments for their clients.