Online shoppers these days rely on more than sales copy alone to make purchase decisions. Econsultancy reports that 61% of customers will read online reviews before they make a purchase decision.
In order for businesses to remain front and centre with their ideal customers, they must:
Appeal to all stages in the buyer's journey – from the seed of interest to the purchase decision

Educate buyers before they make a purchase

Appeal to and engage with those who influence larger groups, and to have them do some of the soft-selling for you

Your Content vs User Generated Content
To sift through such a high volume of available information, most consumers will now turn to social media for the opinions of their peers in relation to a particular purchase decision, meaning the content produced by you, the retailer, is only a small piece of the puzzle.
One quality piece of content could be responsible for a thousand brand mentions over social media, so there is a direct link between quality content produced by your company, and the user generated social sentiment that surrounds it.
User generated content (UGC) is so highly sought-after because it changes the way of content marketing; the right campaign could encourage audiences to start producing content for you.
A study from the Content Marketing Institute found that the most effective marketers allocated at least 42% of their budget to producing online content. But with UGC, every piece of content created during the campaign is a piece you don't have to pay for. Not every business will have the time and resources to create quality content consistently, which makes UGC a perfect marketing companion.
User Generated Content Marketing Examples
A good example of a great UGC campaign is that of Starbucks' White Cup Contest (#WhiteCupContest on Twitter) in 2014. According to eConsultancy, the brand received more than 4000 unique entries, after inviting people to decorate one of its cups with customised art and submit a photo of it to Twitter.
Another top UGC campaign saw Belkin and LEGO encouraging customers to flex their creativity by personalizing their phone case with LEGO bricks, and tagging their photos of the case with #LEGOxBelkin.
(photo courtesy of Postano)
Belkin then embedded their Instagram feed in their website thus providing a live feed throughout the campaign.
Benefits of User-Generated Content
Employing UGC campaigns such as these, brands are able to enjoy the following benefits:
Promote brand awareness, trust, and loyalty

'Cut through' and communicate brand values in a personal and engaging way

Increase site traffic through organic shares

Boost user engagement

Enhance SEO

Provide opportunity to collect customer feedback

Supply data that can be re-used for marketing campaigns
User generated content is especially beneficial for companies that are just starting to grow their audience, as users are more likely to trust their peers over the messaging of the company. But the same time it would be also essential for big establishments to evolve their marketing strategies with more customer engagement.
User Generated Content in China's Context
In general, UGC exists in a different context in China with users tending to follow the majority view from the public instead of that of individuals. Social media sites like Weibo are popular among the group due to influence from celebrities and the "big VIP's". On the other hand, according to Mark Granovetter's famous "The Strength of Weak Ties" Theory, users may also contribute some useful content anonymously. Notable examples are Douban and Zhihu (Chinese equivalents of Reddit or 4chan), the psychological satisfaction comes from the recognition of strangers, the opposite of using friend-connecting social media tools like WeChat Moments and Weibo.
In terms of the Chinese consumer behaviour, currently consumers prefer to buy from third party platforms than brand websites in the same way it is more common to look at a restaurant's open hours and must-try dishes on Dianping rather than the restaurant's site. However, the UGC content from the third party websites can also sometimes be fraud. More consumers are tending to trust the content from official e-commerce platform.
A testament to this culture's online buying power is evident in TMall which currently has 5,400 foreign brands selling goods on their site.
But with standalone e-Commerce websites becoming a prerequisite for businesses who want to build a presence online, it's only a matter of time before UGC becomes an invaluable part of every business's marketing campaign.
Furla is one of the few to take the lead. Just recently, they launched a global interactive digital campaign called "Perfect Match" where they encouraged fans from all around the world to send in photos that showed off their Furla style with China having the sixth highest number of submissions.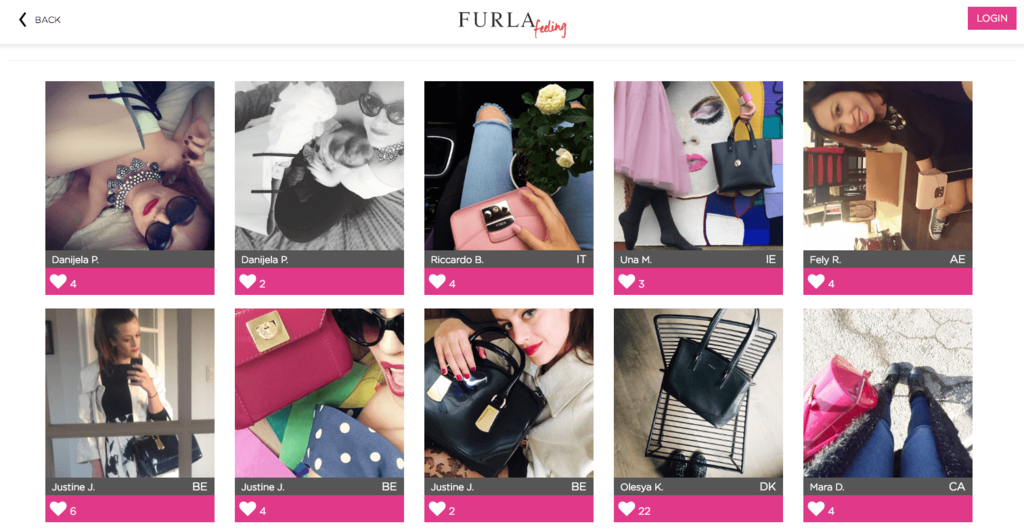 The brand's sales in the last five years have been significantly increasing with China's market offering great potential. This is partly due to the company's presence in apps like Weibo, WeChat, and Youku which are all popular social channels in China.
How to Make an Effective UGC Campaign
Decide on an appropriate UGC campaign and promote it to your demographic. This helps increase the numbers of participants.

Add an extra incentive for users who join, such as vouchers, gifts, or simple recognition through social media.

Filter posts and reviews so your user has a clear direction of which offer to buy. You can also use UGC as an opportunity to prompt your customer to visit your product page. In this case, it's crucial to manage the bad buzz in a smart way otherwise it's easily for users to lose faith and trust in the brand. There are two ways to achieve this: if the comment is from the website, it should be approved by the webmaster to avoid anything unfair or offensive being published; if the comment is from social media, it should be well selected. However, even if the comment is negative sometimes, in order to minimise the damage to the brand, it would be necessary to respond in a nice way. If it's sorted smoothly, it could have a positive impact in return.

If you conduct your UGC campaign over social media, make sure it is on a platform your customers use the most like Facebook, Instagram, or Twitter. These social platforms may be popular in the West but they won't be adapted to the Chinese market. Nevertheless, Chinese consumers have plenty of home-grown, state approved social ecosystems to choose from such as Weibo, WeChat Moments and etc.

Feature your UGC on your website. Not only does this make your site constantly fresh with content, it also increases traffic.

Place customer reviews directly on your product pages. A review at the bottom of your product selection or a specific product makes it easier for your user to make a purchase decision without having to leave your site to check for reviews.
Take a look at Amazon or Sephora. Each product is featured with a list of customer reviews, greatly helping product purchasing.
A best in class case is Rent the Runway who display pictures from users in apparel rented from the e-Commerce site, along with customer feedback. This allow potential customers to visualise how the product could fit them.
Automate social media feeds. Set your site up so it automatically grabs the content submitted by your users on your social media channel with the right hashtags. With the right module, you'll be able to crawl specific social media platforms for the hashtag and directly display it on your website.

Set up a proper mechanism to redeem coupons and gifts, which can stimulate a higher volume of purchases.

Amplify your campaign with a good KOL (Key Opinion Leader) with an existing devoted follower base.
At IT Consultis, we have helped brands retrieving and creating special mechanisms for their User Generated Content fetching them from Weibo, Instagram or Facebook. We also have worked on smart way to display those content within WeChat pages. The mechanisms we have created can adapt to multiple technologies and can also generate automatic vouchers to reward customers for their contribution.
User generated content may not be fully automated like most content marketing tactics but it's the new kid on the marketing block that provides you many benefits in exchange for what can sometimes be a very small investment compare to other ways.