Diamond Foundry - Fully-Fledged Magento Localization to Reach Chinese Customers
Main Services: Consulting, Design, Magento E-commerce Development, Localization
Diamond Foundry, a project backed up by Leonardo Di Caprio, is a company producing man-made diamonds based in San Francisco, California. Their cutting-edge technology allows them to grow diamonds in their labs with masterful craftsmanship and 100% carbon neutral certification. Diamond Foundry inspects each diamond more than 1,300 times to ensure each piece is real, unique, world positive, and has a guaranteed origin. The company has attracted investments from many influential personalities, who on many occasions have praised Diamond Foundry for their social impact and sustainability.
Tapping into the Chinese market, Diamond Foundry needed to establish a seamless e-commerce website tailored to Chinese user experience and connected to its global system. The UI/UX has been completely revamped; with all CTAs, font, text, and color palette harmoniously combined to attract interactions and engagement from the users.
The back-end is powered by Magento 2, enabling dedicated functionalities for the vendor, order, and warehouse management. Chinese payment methods, including WeChat Pay & Alipay, were integrated to smoothen the user journey. React was chosen for the front-end, connected with the Magento back-end via APIs to display all the functions neatly.
Launch the website
Ipsen - An App to Map Online and Offline Personas
Main Services: Consulting, Design, Mobile (iPad) App Development, Headless
With over 90 years of heritage, IPSEN is one of the leading biopharmaceutical group dedicated to improving human lives through innovative medicine in oncology, neuroscience, and rare diseases. With 5,700 employees working at several R&D fields and industrial sites around the world, IPSEN has established a direct commercial presence in 30 countries and has been selling its products in 115 countries worldwide.
IPSEN was seeking an efficient and scalable digital solution to collect and manage the database of visitors coming to IPSEN booth at the global biopharmaceutical congress. To help IPSEN replace the old-fashioned way of managing contacts and generating leads, ITC came up with an iPad App with two functionalities: (1) helping congress visitors to learn more about IPSEN products and leave questions, and (2) helping IPSEN staff to manage the contacts easily.
Headless technology was adopted with Laravel as the back-end and React as the front-end. Drupal 8 was chosen to be the content management system, and Couch&Pouch DB was also applied to make sure the app works well both online and offline.
Visitors' Journey
Staff's Journey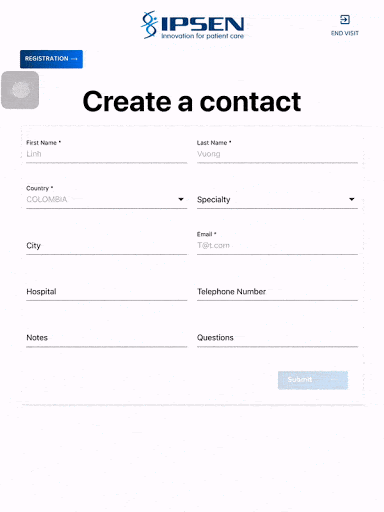 Visitors' Journey