"Over the past decade, Alibaba measured our impact and our success by how much we changed China. Going forward, we will be judged by how much we change the world." - Michael Evans - President of Alibaba.
Alibaba is indeed changing the world with its Singles Day which keeps beating year after year online sales records.
Here's 11 things to know about this year's 11.11.
(Photo from Alizila)
#1 - 11.11 happening on mobile: Mobile sales accounts for 70% of the sales this year's 11.11. As a comparison, mobile transactions accounted for only 42.6% of sales for 2014's Singles Day, says China Skinny.
#2 - Extra efforts put on Taobao app: Alibaba tailored the mobile UX for 11.11 to anticipate the huge traffic Taobao mobile app would get for Singles Day. And they were right, the traffic on Taobao app superseded last year's with nearly 130 million users, just a few hours after 11.11 started.
#3 - Increasing participating global brands: Many global brands entered 11.11 this year. And it makes sense knowing Chinese consumers crave for authentic safe quality products. Top origin countries of purchased products during 11.11 were Japan, USA, Korea, Australia and Germany.
#4 - Not just for Chinese consumers: 11.11 targeted consumers abroad via TMall, partnering with foreign post companies to ensure deliveries worldwide.
#5 - Better logistics: Previous 11.11s caused chaos in deliveries. This year, physical stores stocks and online shops stocks virtually merged so consumers will be delivered by the nearest stock, reducing delivery times.
#6 - O2O: Some brands like Haier have dedicated showroom spaces in-store for products put on-sale during 11.11.
#7 - More O2O: Anticipating Singles Day, Taobao's app has been pushing notifications for days to consumers entering participating stores through location based services.
#8 - New record hit: Last year's November 11 hit 278 million orders worth 9.3 billion USD. That's 63% more than 2013's 5.7 billion USD and way above the US' Black Friday and Cyber Monday, combined.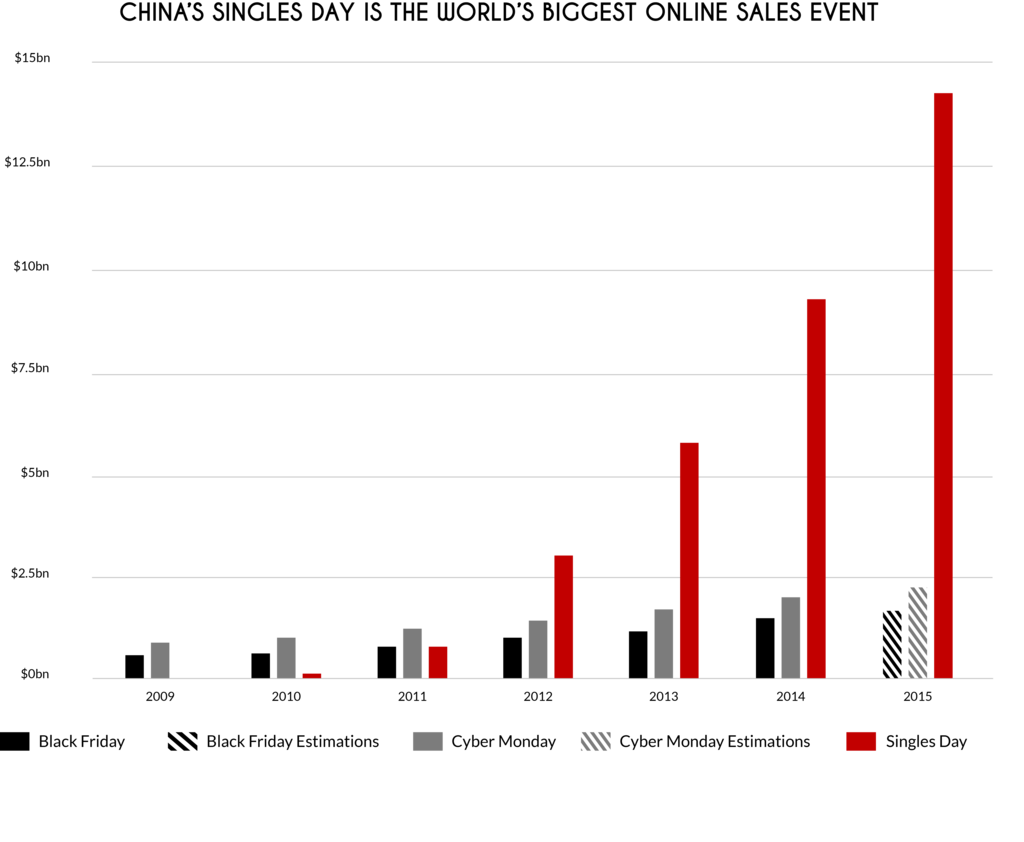 This year, the 2015 sale has eclipsed last year's record in USD in a little over half the time. Total sales of this year's 24h event reached 91.2 billion RMB (14.3 billion USD).
#9 - Payments led by Alipay: According to Alizila, 5 billion USD (approximately 31.8 billion RMB) GMV was settled through Alipay in the first 90 minutes. At the end of the day, 10 billion USD (around 63.6 billion RMB) of GMV was settled through Alipay.
#10 - Extended shopping madness: Consumers were able to lock promotion prices a few days or weeks before 11.11. Some sales will also continue after November 11 so the madness is not about to stop yet.
#11 - Showcase: Alibaba hosted a gala in Hangzhou where Alibaba headquarters are, to launch the online shopping day. Some celebrities made an appearance and here's a video you should definitely watch featuring Kevin Spacey in his Frank Underwood role. Maybe someday, 11.11 will be as big as the superbowl?